Xavier > CAT+FD > Facilities > Electronic Classrooms
Electronic Classrooms
The Electronic Classrooms (Library Resource Center Rooms 501 & 502) are open from 8:00am until 4:30pm Monday through Friday (except University holidays).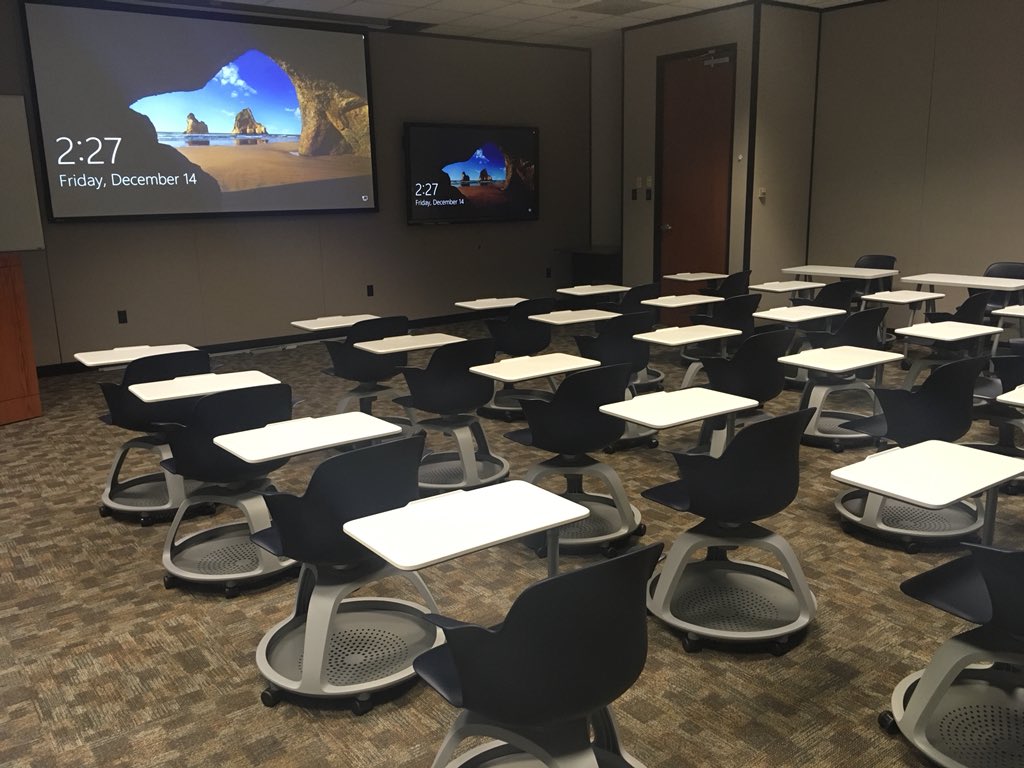 | | |
| --- | --- |
| Operating guides for the electronic classrooms: | This site contains documents in the Portable Document Format (PDF), which you can download and print for your reading convenience. There are a number of viewers which you may use to display PDFs. We recommend the free Acrobat Reader by Adobe. You might also wish to visit Planet PDF, which maintains a index of PDF tools, many of which are free. |
The Electronic Classrooms are equipped with a dedicated Mac and Windows PC. The computers are networked to the campus-wide network and are loaded with Microsoft Office productivity software, as well as Firefox and Chrome web browsers.
The lecture console of each classroom also includes an integrated DVD player and tabletop document camera. Other audio, video, notebook, and computer devices may be connected to the projection systems in the classrooms.
Both classrooms utilize large screen projection systems. Both classrooms have the ability to display images from two different sources (i.e. computer, document camera and DVD player). Room 501 is equipped with a Viewsonic interactive display. Room 502 is equipped with a Smart Sympodium (interactive display).
Both classrooms are designed to support active learning. The furniture allows students to easily shift from independent work to group projects to class discussions and back again — without wasting valuable class time. Both classrooms have whiteboards designed for collaborative work with easels and wall tracks for ease of whiteboard display and presentation.
Room 501 can accommodate a class-sized audience of thirty-six. Room 502 can accommodate a class-sized audience of twenty-eight. The Electronic Classrooms are primarily used by faculty teaching regularly-scheduled university courses which make extensive regular use of multimedia materials and/or network communications.
Faculty members who wish to teach a course in our Electronic Classrooms or Teaching Lab must submit to the Center a course syllabus, a letter describing the specific types of instructional technology (e.g., simulation, presentation software, course Web site) and the extent to which they will be used in the course, and a letter of support from the chairperson. For a detailed explanation of the approval process refer to our procedure for approval and assignment of Electronic Classrooms and Teaching Lab. [PDF, 16 Kb]
There are limited times that the Electronic Classrooms are available for ad hoc usage. Faculty who are interested in reserving the Electronic Classrooms on an ad hoc basis should complete a CAT+FD Facilities Request Form (available on-line or at the CAT office). The usage of the facilities must be because multimedia materials and/or network communications are necessary. Only faculty who have been trained to use the equipment can reserve the Electronic Classrooms. Training cannot usually be accomplished on short-term notice. Periodic training sessions are scheduled. Call the Center at 7512 to sign up.
Usage of facilities by other groups may be scheduled at the discretion of Center management and requires the sponsoring organization's support of Center activities.
See also: Facilities & Resources
Last modified: 01/2/2019 11:42 am
URL: cat.xula.edu/facilities/classrooms
Validate this page
Maintained by Bart Everson <
send message
>
CAT+FD home page
•
Contact CAT+FD