Blackboard Collaborate Test Flight

Drop-in Session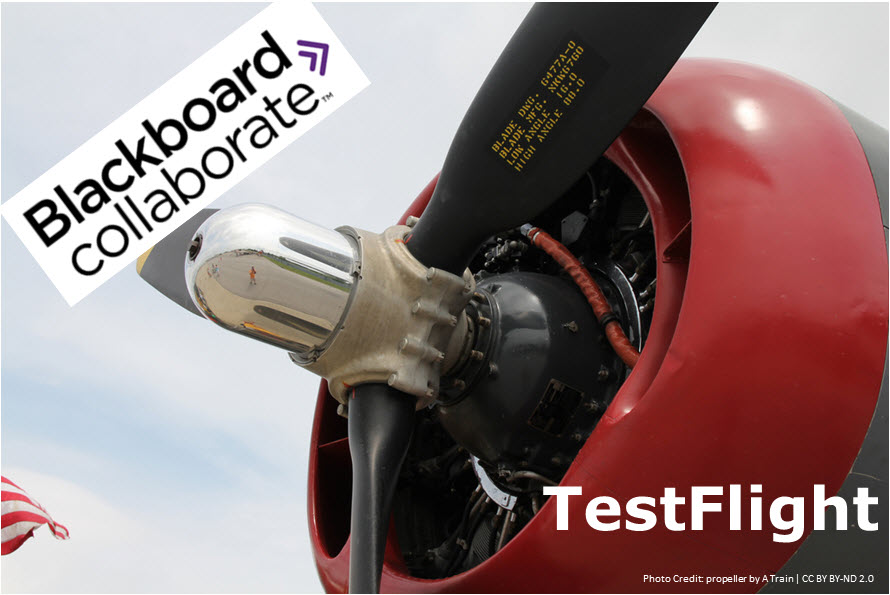 Have you attended Blackboard Collaborate (web conferencing) training and plan to use it but want to practice using Collaborate before you try it out in your class or just may need answers to questions about using it? If so, attend this virtual Collaborate Test Flight Drop-in session.
This Blackboard Collaborate Test Flight session gives faculty who have attended a Collaborate workshop and want to make sure they are ready to use Collaborate the opportunity to log in, test their system, and ask any questions about Collaborate that they may have.
This Collaborate Test Flight is intended for faculty who attended one of our past Collaborate workshops. Faculty will be able to join this Bb Collaborate Test Flight session to get individualized help. Janice Florent will moderate this Test Flight session providing help to faculty who want to practice or get answers about using Collaborate. This session's format is open, providing an opportunity for faculty to receive one-on-one help. You can get help on topics such as using audio/video, chat, whiteboard, application sharing, web tour, file transfer library, breakout rooms, best practices, etc.

Faculty who have attended one of our past Collaborate workshops are encouraged to drop-in anytime during the Test Flight and spend as much or as little time as needed to ask questions about Collaborate.
Drop-in anytime between 1:00 pm and 3:00 pm on Friday, Sep 11, 2015. Click this link to join the Collaborate Test Flight Session.

This Test Flight is not intended for faculty who have not attended a Blackboard Collaborate workshop before. If you have not attended a Collaborate workshop before and are interested in attending one, please let Janice Florent know you are interested in using Collaborate so that we can arrange a workshop for interested faculty.
Note: This Drop-in session will be held virtually. If you plan to attend this session, please run the Bb Collaborate first time users system check prior to the session's start time to make sure your computer is setup and ready to go.

Led by: Ms. Janice Florent (CAT+FD)
Date: Friday, September 11, 2015
Time: 1:00 - 3:00 PM
Location: Online/Virtual
Sponsor: CAT+FD
Note: Visit our website for additional Blackboard workshops or contact Janice Florent. Collaborate How-to guides and on demand help is available. Also visit Blackboard Bits, Bytes, and Nibbles for Blackboard Tips.
To register: No need to RSVP. Click this link to join the Collaborate Test Flight Session.
Tags: Blackboard, Collaborate, virtual
Format: hands-on
Event ID: 01374