Teaching and Learning with Web Course Management Systems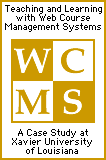 Webliography
This list of websites was generated, initially, for the faculty members involved in the case study. Our hope was that it would help them develop a deeper understanding of issues, problems, solutions, and so forth that are associated with teaching with technology.
31 Listings; Updated Fall 2000
This site contains documents in the Portable Document Format (PDF), which you can download and print for your reading convenience. There are a number of viewers which you may use to display PDFs. We recommend the free Acrobat Reader by Adobe.
Regarding On-line Discussion
Guest Lecturer: Concrete Steps for On-line Discussion by Karen Peters


Directions for threaded discussions.




The Asynchronous Spectrum by Murray Goldberg


Discussion on the experiencing asynchonous communication.




Expanding Class Discussion Beyond the Classroom Walls by Susan Powers and Karen Dutt


The authors describe the experiences and lessons learned when they created an online discussion for pre-service students enrolled in an elementary education course. The authors also describe their goals for the online discussion and factors that affected the learning environment, and give examples of the discussions.




A Framework for Designing Questions for Online Learning by Muilenburg and Berge


To quote from the abstract, "This article describes a theoretical framework for designing questions for starting online discussion and follow-up questions to maintain the discussion. This framework is placed within a broader context of discussion within a constructivist, online environment. Numerous examples of discussion questions which were gathered from experienced online instructors are presented with the goal of preparing students and teachers to participate effectively in online discussions."




The Whys and Hows of Online Discussion by Knowlton, Knowlton, and Davis [No longer on-line]
Syllabus magazine, June 2000, Vol. 13, No. 10


This is a very readable and informative article; we recommend this highly. The authors provide a rationale for using online discussions. They also provide tips on how to design discussions for success, facilitate discussions for maximum learning, and evaluate discussions. Copies of the article are available in the Center for the Advancement of Teaching.




[top]
Regarding Assessment
Deliberations: Assessment


A series of url's as additional resources on assessment and teaching from Deliberations - a website for a lively and continuous process of debate on learning and teaching in higher education




The ThinkerTools II Project


The ThinkerTools II Project is developing a performance assessment model that will enhance the teaching and learning of scientific inquiry, while helping students to develop a knowledge of the physics of force and motion.




Evaluation of Three Educational Online Delivery Approaches [PDF, 1024 Kb] by Edwards Clark and Janie Harden 1997


Provides example variables of student perceptions of educational media formats.




[top]
Regarding Course Structure
[top]
Regarding Fair Use & Copyright Info
[top]
General
[top]
Tools & Resources
Resources for Moderators and Facilitators of online Discussion by Steve Jones


An excerpt from a book Cyber Society: Computer-Mediated Communication and Community.




Virtual Teaching with Technology by UMUC-BellAtlantic


The University of Maryland University College received funding from the Bell Atlantic Foundation to develop the Bell Atlantic Virtual Resource Site for Teaching with Technology. This website is being developed as a "resource for faculty seeking direction in appropriate ways to use Web-based technologies to accomplish key learning strategies." Currently, the site has one module that consists of "resources for use in the selection of appropriate media to accomplish specific learning objectives." Of particular interest is the "systems approach" which consists of 7 steps to follow in developing online components of a course.




Reference Listing


Tufts University Center for Teaching Excellence Advisory Committee




[top]
WCMS: Home | Executive Summary | Final Report | Narratives and Data | Findings | RealVideo Tour | Webliography