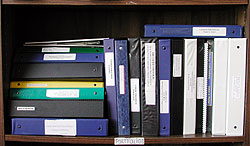 Course Portfolio Working Group
Please note that our Course Portfolio Working Group initiative is no longer active. The information below is presented for historical purposes only.
What is a Course Portfolio?
A course portfolio is a scholarly project reflecting the choices an instructor makes in designing, implementing, and evaluating a course. More than just a collection of teaching materials, the course portfolio represents the exploration of an instructor's teaching practice through inquiry and reflection, with the ultimate focus on student learning. Therefore, all course portfolios are works in progress as the instructor continues to redesign and implement aspects of a course after examining results of both student and self-learning. Dr. Deborah Langsam from UNC-Charlotte, stated, "The purpose of the course portfolio is to provide a vehicle for inquiry and reflection into the teaching and learning process."
Xavier University's Center for the Advancement of Teaching has fostered dialog and work on course portfolios from 1997 to the present; see the CPWG Milestones.
The Center, through its Course Portfolios Initiative and the Course Portfolio Working Group, continues to support faculty in their development of Benchmark Portfolios. The Course Portfolio Working Group, a year-long project recommended for faculty who have not written a course portfolio before, results in the production of a portfolio that focuses on a single course while reflecting on teaching philosophy, techniques, and learning assessment in a general way. The outcome of this work is a foundational document upon which the faculty member can build as he or she goes forward, innovating and experimenting with teaching.
Completed Course Portfolios
AFAM
Course Portfolio for AFAM 2000
Tucker, Linda
Course Portfolio for Introduction to African American History and Culture (AFAM 2000)
Heglar, Charles
ART
Art Appreciation Course Portfolio
Kinnord-Payton, MaPó
History of Art 1B (Renaissance to the Present), Art 2120
Beauchamp-Byrd, Mora
BIOL
A Course Portfolio for BIOL 1230: General Biology
Bandaranayake, Hema
BIOL 1240L -- General Biology II Laboratory Course Portfolio
Delaney, Kevin
Cell Biology Course Portfolio
Saunders, Royal
Classroom Learning in Biology 1240
Porter, Calvin
Course Portfolio for Anatomy & Physiology
Doumen, Chris
Course Portfolio for Biodiversity (BIOL 2000)
Bell, Charles
Course Portfolio for BIOL 2010LB: Microbiology Lab
Ireland, Shubha
Course Portfolio for BIOL 3350: Anatomy and Physiology
Mullins, Tracy
Course Portfolio for General Microbiology (BIOL 2010)
Muniruzzaman, Syed
Course Portfolio for The Neurochemical Basis of Human Behavior (BIOL 4303)
Saunders, Royal
Genetics Course Portfolio
Stanislav, Todd
Introduction to Forensic Sciences course portfolio
Eckert, John
Reinforcement of Definitions in a General Biology Course: A Course Portfolio for Biology 1240
Ratnayaka, Harish
BUSI
2011/2012 QEP Course Portfolio for BSAD 4000: Business Policy
Peters, Richard
PRINCIPLES OF MANAGEMENT
Peters, Richard
CHEM
Course Portfolio for Chemistry 2220 DR
Cheng, Shifa
Course Portfolio for Chemistry 2230/2240
Klassen, Bryan
COMM
A Course Portfolio for Advanced Public Speaking
Hopson-Sparks, Melissa
A Course Portfolio for SPCM 3040: Group Discussion
Gendrin, Dominique
A Course Portfolio for Writing for Radio and Television (MSCM 2500)
Silverman, David
A Working Course Portfolio for Fundamentals of Public Speaking (SPCM 1010)
Brown, Rockell
CMST 3030 Race, Culture and Communication
Edgecomb, Elizabeth
Communication Anxiety over Public Speaking: A Course Portfolio for SPCM 1010 (Fundamentals of Public Speaking)
Morin, Aysel
Communications Course Portfolio 1
Bales, Fred
Communications Course Portfolio 2
Bales, Fred
Course Portfolio for SPCM 3040: Small Group Communication
Gendrin, Dominique
Course Portfolio for SPTH 2920: Articulation Disorders
Martino, Nancy
Motivation to Speak: A Course Portfolio for SPCH 1010 (Fundamentals of Public Speaking)
Thomson, Stephanie
News Reporting, MSCM 3250
Jenkins, Cheryl
Service-Learning as Critical Pedagogy: A Course Portfolio of Honors Public Speaking (SPCM 1011H)
Louis, Ross
Special Topics in Speech Communication: Media Literacy Course Portfolio.
Lundy, James
CPSC
A Course Portfolio for CSPC/BSAD 1005: Intro to PCs/Software Applications
Louis, Lynda
Course Portfolio for CPSC 2740: Software Engineering
Sampson, Elizabeth
Course Portfolio for Logic Design (CPEN 2110)
Northern, James
CPSC 3603: Special Topics in Computer Science: Human-Computer Interaction
Lang, Ray
Improving Student Learning in Circuits I (CPEN 2210) Through Enhanced Classroom Interactions
Chen, Dongyan
EDUC
A Course Portfolio for ECSS 5620: Techniques of Counseling
Thompson, Jill
Course Portfolio for Adaptive Physical Education
Craig, Jean Marie
Course Portfolio for Physical Education
Athey, Doug
Course Portfolio for WRIT 1050
Richard, Charles
Human Growth and Development (ECSS 6210) Course Portfolio
Salgado, Roy
Research Methodology (EDCG 5010) Course Portfolio
Prosper, Tanzia
Teaching Portfolio for the Course Advanced Counseling Techniques
Marszalek, John
The Professional 7-12 Science and Math Educator: A Course Portfolio
Glaude, Timothy
ENGL
A Reading Portfolio: English 2010
Adamo, Ralph
Active and Engaged Reading
Williams, Cocoa
Course Portfolio for ENGL 3070: restoration and Eighteenth-Century Literature
Schurer, Norbert
Course Portfolio for English
Bryan, Violet
Course Portfolio for English 1010
Cheramie, Deany
Course Portfolio for English 2010
Whitaker, Mark
Course Portfolio for English 2011HN
Lanoue, David
Course Portfolio for English 3175 and English 1023HN
Levy, Michele
Course Portfolio for WRIT 1050
Bates, Randolph
Course Portfolio for WRIT 1050
Derricotte, Toi
Course Portfolio for WRIT 1050
Melnick, Patrice
Course Portfolio for WRIT 1050
Whitaker, Mark
Course Portfolio for WRIT 1050 Introduction to Creative Writing
Obradovic, Biljana
ENGL 1020: English Composition & Literature
Todd, Jason
ENGL 3160: Survey of American Literature I & ENGL: 3170: Surveyof American Literature II
Todd, Jason
ENGL/THEO 3500 THE THEOLOGY OF FLANNERY O'CONNOR
Laborde, Katheryn
English 1010 Composition and Rhetoric
Tuman, Jeremy
English 1010 Course Portfolio
Clytus, Radiclani
English Composition and Rhetoric Course Portfolio
Rome-Jones, Danielle
English Composition and Rhetoric Portfolio
Gould, Donna
Introduction to World Literature I course portfolio
Richardson, Leslie
Swimming with Poets: Lessening Student Anxiety and Fear of Poetry in English 1020
Andersson, Lena
HIST
A Course Portfolio for HIST 1040: World Civilizations Since 1500
Salm, Steven
Course Portfolio for History 1040: World History Since 1500
Barrett-Gaines, Kathryn
Course Portfolio for History1040HN World Civilizations to 1500
Reese, Scott
Course Portfolio for World Civilizations (1500-present)
Hemenway, Betsy
LANG
Course Portfolios for Spanish Language and Spanish Literature Courses
Roman-Beato, Bernardo
MATH
A Course Portfolio for MATH 1010, Mathematical Ideas
McCreary, Paul
A Course Portfolio for MATH 1010: Principles of Modern Math
Unnithan, Sindhu
A Course Portfolio for MATH 2080: Calculus III
Kocic, Vlajko
Course Portfolio for Introductory Calculus
DuRapau, Theresa
Course Portfolio for Math 0981DV: Algebra Review
Labranche, Michael
Course Portfolio for MATH1060- Mathematics for Elementary Majors
DuRapau, Theresa
Pre-Calculus (MATH 1030) Course Portfolio
Villarreal, Karen
Precalculus Course Portfolio
Kocic, Vlajko
PHARM
A Course Portfolio for Pathophysiology (PHCL 4310)
Lieveld, Patricia
Acute Care Internal Medicine Clerkship totation
Okogbaa, John
Advanced Pediatric Pharmacotherapy PHCY 4100
LaRochelle, Joseph
Advanced Pharmacy Practice Experience Critical Care Medicine
Johnson, Jessica
ADVANCED PHARMACY PRACTICE EXPERIENCE: AMBULATORY CARE WITH HIV EMPHASIS
Gordon, Lori
Advanced Professional Practice Experience in Ambulartory Care
Taylor, Ashley
Advanced Professional Practice Experience in Ambulatory Care
Taylor, Ashley
Ambulatory Care Totation Clinical Clerkships
Crawford, Lori
Applied Pharmacokinetics Course Portfolio
Jacob, Patricia
Clinical Clerkship in Adult Ambulatory Medicine
Conrad, Ariane
Course Portfolio for Clinical Clerkship
Jamero, Dana
Course Portfolio for Clinical Clerkship in Adult Internal Medicine
Rogers, Krishawnda
Course Portfolio for Clinical Clerkship in Ambulatory Care (Community Pharmacy Patient Care Center)
Bailey Wheeler, Janel
Internal Medicine Clerkship
Okogbaa, John
Pathophysiology PHCL 4310
Sarac, Miroslav
Teaching Portfolio for Courses in the College of Pharmacy
Obih, Patience
PHIL
Course Portfolio for ''Problems in Philosophy'' PHIL 1070
Schafer, Paul
Course Portfolio for Ethics: General Principles
Berman, Robert
Course Portfolio for Problems in Philosophy Spring 2008
Chastain, Drew
PHYS
PHYS 1121-2111-2121
Sunda-Meya, Anderson
Revision of the Algebra-Based Physics Lab (PHYS 2010L and 2020L): A Physics Course Portfolio
McCloud, Kathleen
PSYC
A Course Portfolio Examining Introduction to Research (PSY2512)
Schulte, Lisa
Experimental Psychology (PSY 2020)
Iskra, Annette
Experimental Psychology Course Portfolio
Schulte, Lisa
Theories of Personality: A Course Portfolio
Marion, Michelle
SOCI
Benchmark Course Portfolio: Introduction to Sociology
Bellone Hite, Amy
THEO
Course Portfolio for Introduction to Biblical Studies (THEO 1120)
Homan, Michael
other
Bibliographic Instruction
Hampton, Nancy