Xavier > CAT+FD > Initiatives > Course Portfolio Working Group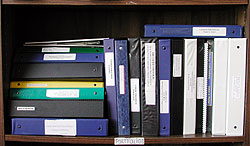 Course Portfolio Working Group
What is a Course Portfolio?
A course portfolio is a scholarly project reflecting the choices an instructor makes in designing, implementing, and evaluating a course. More than just a collection of teaching materials, the course portfolio represents the exploration of an instructor's teaching practice through inquiry and reflection, with the ultimate focus on student learning. Therefore, all course portfolios are works in progress as the instructor continues to redesign and implement aspects of a course after examining results of both student and self-learning. Dr. Deborah Langsam from UNC-Charlotte, stated, "The purpose of the course portfolio is to provide a vehicle for inquiry and reflection into the teaching and learning process."
Xavier University's Center for the Advancement of Teaching has fostered dialog and work on course portfolios from 1997 to the present; see the CPWG Milestones.
The Center, through its Course Portfolios Initiative and the Course Portfolio Working Group, continues to support faculty in their development of Benchmark Portfolios. The Course Portfolio Working Group, a year-long project recommended for faculty who have not written a course portfolio before, results in the production of a portfolio that focuses on a single course while reflecting on teaching philosophy, techniques, and learning assessment in a general way. The outcome of this work is a foundational document upon which the faculty member can build as he or she goes forward, innovating and experimenting with teaching.
In fall 2004, the Center launched its Inquiry into Teaching and Learning Initiative. Recommended for faculty who have already completed a course portfolio, this three semester-long project produces an in-depth study of a learning issue or problem, usually but not always within the confines of a single course, making use of scientific methodology and rigorous assessment. The scholarly work that results from this project may be presented at a conference or symposium or submitted for peer review and publication. Ultimately, the work will contribute to the intellectual discourse about teaching and learning in order to improve both.
These recent changes were initiated based on insights that Drs. Paul Schafer and Todd Stanislav gleaned from the Making Learning Visible: Peer Review and the Scholarship of Teaching conference, hosted by the University of Nebraska-Lincoln in March 2004.
Last modified: 01/4/2016 12:34 pm
URL: cat.xula.edu/initiatives/cpwg/
Validate this page
Maintained by Bart Everson <
send message
>
CAT+FD home page
•
Contact CAT+FD